If you're a car enthusiast, then you probably know that Bugatti is one of the most prestigious and sought-after car brands in the world. Bugatti is a legendary car brand that has been synonymous with luxury and performance for over a century.
From their sleek designs to their powerful engines, Bugatti has always been at the forefront of innovation and technology. But did you know that some Bugattis are worth millions of dollars?
That's right, these incredible cars are not only beautiful and powerful, but they're also some of the most expensive cars in the world. But what sets the Most Expensive Bugattis apart? These are not just cars; they are works of art.
From the limited edition Veyron Super Sport to the one-of-a-kind La Voiture Noire, these cars are rare, exquisite, and command prices that only the super-rich can afford.
In this blog post, we're going to take a look at the most expensive Bugattis in the world and explore what makes them so valuable.
If you've ever wondered what it feels like to own a Bugatti or just want to marvel at the most expensive cars in the world, then keep reading.
We guarantee you won't be disappointed.
Most Expensive Bugatti Cars of All Time
10. 2018 Bugatti Chiron
The 2018 Bugatti Chiron is a luxurious car that boasts a revolutionary body design with an engine that produces 1,479 horsepower – a combination that speaks volumes to its owner's wealth.
The most expensive of these cars is undoubtedly the first Chiron released, a striking black-and-red vehicle boasting only 250 miles on the odometer.
In 2017 this beauty sold for $3.77 million at a Sotheby's auction, making it more than just any Bugatti; this machine was coveted because it was the very first specimen of its kind to go public.
Though concept cars and special models come with high asking prices, none match up to the awe-inspiring cost of such an esteemed ride as the original Chiron.
Comparatively speaking though, $3.77 million isn't too bad if you consider one other Bugatti model in this ranking.
9. Bugatti Bolide
The Bugatti Bolide is the newest addition to the iconic French car manufacturer's lineup, and its estimated price of $4.7 million has skyrocketed it to the list of most expensive Bugatti cars ever produced.
Though it isn't slated for release until 2024, this concept car is already generating excitement due to its speculative performance capabilities and impressive futuristic design.
But why such an extravagant price for a car that doesn't exist yet?
It could be that the Bolide's high cost comes from its esteemed name brand along with all the ingenuity put into designing such a one-of-a-kind vehicle.
Whatever the case may be, there's no denying that this luxurious item makes up part of an illustrious repertoire of some of the world's most expensive Bugatti cars.
8. Bugatti Chiron Habillé Par Hermès
Manny Khoshbin may have the most desirable Bugatti car of all, the Chiron habillé par Hermès. This bespoke masterpiece is worth an astonishing $5 million and is the pride and joy of Khoshbin's impressive collection.
This one-off creation was a collaboration between two of the world's most elite luxury brands: Bugatti and Hermès.
It perfectly captures both companies' target markets; those with deep pockets who appreciate only family heirlooms or top-of-the-range automotive masterpieces.
The perfect blend of sleek sophistication and cutting-edge engineering, the combination is sure to remain in high demand should Khoshbin ever decide to sell it – which makes this gorgeous motor car even more valuable as an investment piece.
With sellers fetching up to 50% more than their original purchase prices for similar models, owning a customized Bugatti can certainly prove lucrative!
7. 2023 Bugatti W16 Mistral
The 2023 Bugatti W16 Mistral is an unparalleled engineering feat, boasting a sleek supercar design and high-grade components.
This vehicle's aerodynamic body ensures stability with speed, and its maximum velocity of about 260mph (about 418 kph) exudes excitement for the most experienced adrenaline junkies.
What's more, the limited edition model instantly earned its place as one of the most expensive Bugatti cars in history; all 99 units were snatched up within days at a hefty price tag of $5 million each!
Now that ownership is limited to fewer than 100 people, these cars are certain to retain their value – if not skyrocket in worth – over time.
Despite this astronomical cost, no expense was spared when it comes to luxury: custom leather interiors, state-of-the-art technology, and many other features combine to create a one-of-a-kind experience.
Ultimately, the 2023 Bugatti W16 Mistral stands as the epitome of speed and refinement, a paragon of automotive artistry that will remain an exclusive treat for years to come.
6. 2018 Bugatti Divo
In 2018, Bugatti released the highly sought-after Chiron and Divo models. Both luxury cars sold out quickly; however, the latter came with a much steeper price tag of $5.8 million – making it one of the most expensive Bugatti cars ever made.
But what makes this car so coveted? It's not just because of its attractive design either. The Divo has extraordinary capabilities thanks to its 1,500-horsepower engine and superior construction which makes it faster than any other vehicle in its class.
Plus, only 40 were produced, making it quite rare too! This desirability combined with its high-quality performance is why the Divo earned itself a reputation as the ultimate collector's item amongst auto enthusiasts across the world – justifying its astronomical price tag!
5. 1937 Bugatti Type 57S Cabriolet by Vanvooren
The 1937 Bugatti Type 57S Cabriolet by Vanvooren is an iconic and legendary car, standing out from other luxury cars due to its unique combination of history, rarity, and pristine condition.
The mostly-black exterior is accented by soft yellow details along the sides and doors – all contributing to this classic car's undeniable charm.
Revered as one of the most valuable Bugattis, in 2017 it sold for a jaw-dropping $7.7 million, more than some of the most expensive McLaren supercars!
In fact, it's one of only three known models left in existence making it that much more desirable for antique car collectors or any Bugatti enthusiast.
This stunning example of automotive engineering circa the 1930s stands testimony to strength in difficulties and triumphing over adversity with style!
4. 2020 Bugatti Centodieci
The 2020 Bugatti Centodieci is one of the most exclusive and expensive vehicles ever created. Originally limited to just ten produced cars, the value of these highly coveted automobiles has skyrocketed in recent years.
Not only do they possess a famed Bugatti nameplate, but their rarity makes them truly priceless automotive collectibles that are worth well beyond their $9 million base price.
With wealthy collectors ready to pay more for these cars than initially asked, some owners have even listed them for up to $13.1 million due to increasing demand.
Every aspect of this model was meticulously crafted to offer drivers a unique combination of luxury and performance capabilities – making it one of the most sought-after models within the brand's lineup.
Undoubtedly cementing its place as one of the most expensive Bugatti cars released thus far, there is no doubt that the value associated with these autos will continue to soar in years to come.
3. 1936 Bugatti Type 57S Atalante
The 1936 Bugatti Type 57S Atalante coupe certainly lives up to its reputation as the second most expensive of all Bugatti cars.
Assembled at Moshiem, France's pre-war factory, the Atalante is a classic beauty with modern upgrades and enhancements.
Boasting an impressive 200 horsepower beneath its v-shaped hood, this vehicle can easily put many newer models to shameᅳthe average midsize car produces only 170 horses!
Valued at $12.5 million, it commands such a high price due to its age, rarity, and status as the very first one off the production line.
Plus, its stylish design makes it an attractive addition for anyone collecting supercars or movie production companies alike.
And given that it is still available (as of this writing), you could be in luck if you have enough money to spare!
However, no matter how great it looks or how valuable it is considered today, the 1936 Bugatti Type 57S Atalante will always remain one of the most expensive cars on earth.
2. Bugatti La Voiture Noire
The Bugatti La Voiture Noire is renowned for being one of the most sought-after and expensive cars ever made.
Recently, this Art Deco marvel sold at auction to an unknown buyer for a record-breaking price tag of $18.7 million – making it undoubtedly the priciest Bugatti car.
This customized creation is inspired by the original model which was completed in 1936 and has since been missing after World War II.
The La Voiture Noire has captivated those in search of a lavish ride; however, its exclusivity makes acquiring one a challenge as there's only one!
This held true for its mysterious predecessor, which is estimated to have been six times pricier than its modern counterpart.
When comparing all models, La Voiture Noire stands out as an awe-inspiring beauty with its art deco design that pays tribute to Bugatti's own history.
1. 1936 Bugatti Type 57SC Coupé Aero Chassis No. 57453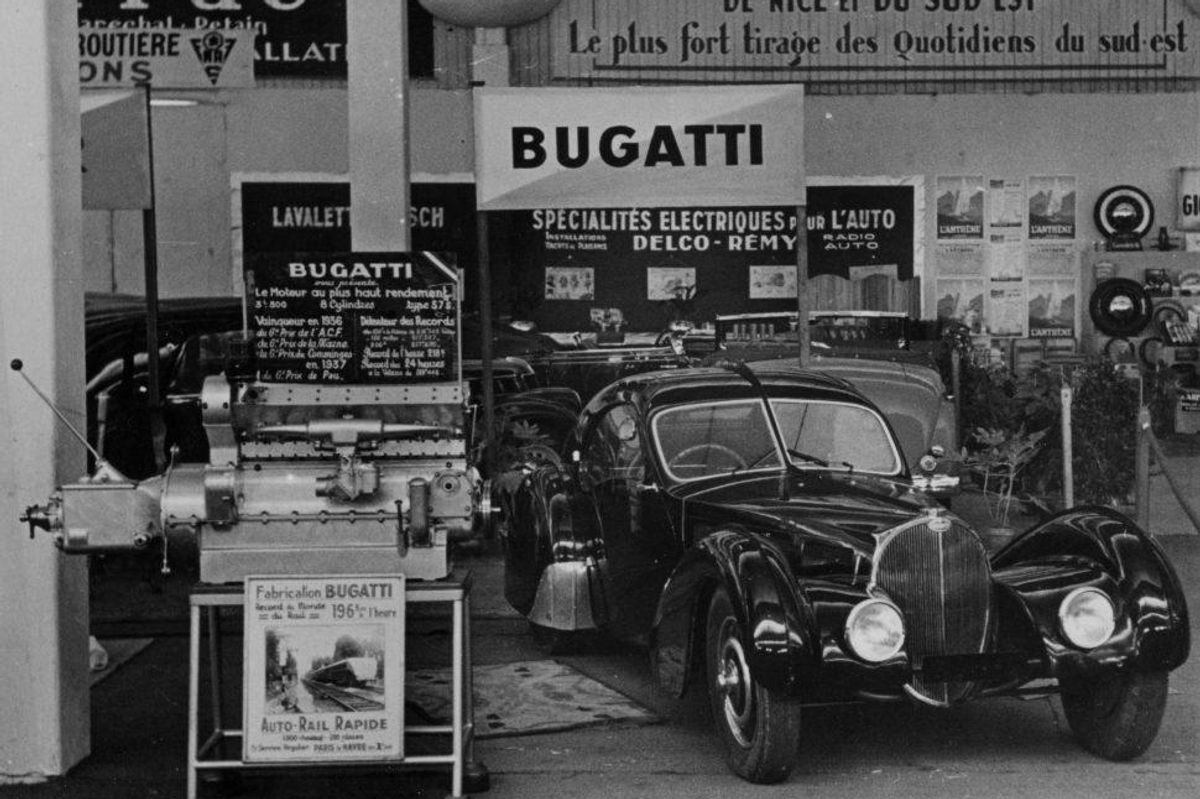 The mysterious 1936 Bugatti Type 57SC Coupé Aero Chassis No. 57453 is considered to be the most expensive Bugatti car of all time–valued at a staggering $114 million.
This vehicle's brief history began with its delivery to Jean Bugatti in 1938, only months before World War II began.
Not long after that fateful moment, the car disappeared and hasn't been seen since–leading many to suspect that it may have been destroyed or hidden away during the global conflict.
Despite its disappearance, there are still some dreamers and adventurers who believe that this precious automotive treasure might one day be found tucked away somewhere in Europe; perhaps languishing in an abandoned barn or lost underground garage.
The allure of discovering such a rare and exclusive piece of automotive artistry has left no stone unturned for enthusiasts on their quest for the most valuable car in world history.